The 2018-19 year is off to a great start!  We have currently collected 79% of our band fees for this year!  Because of these payments, we were able to have a successful band camp this year with some great instructors!
When the Board decides to do a fundraiser, there is always a fund that is designated to receive the proceeds.  One of our designated funds last year was a Trailer Fund.  As most of you know, we were able to purchase a new trailer for our band equipment over the summer.  We are currently still working on the artwork for the outside, but couldn't be more excited to begin using this at our first away game this year!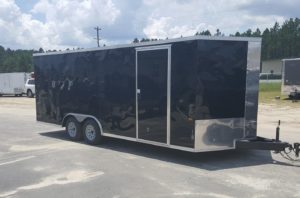 Another designated fund that we had last year was a Storage Building Fund.  Again, we were able to purchase our new Band Barn over the summer due to everyone's efforts in fundraising.
This year we will be working towards raising funds for our Uniform Fund.  The current uniforms are over 10 years old and need to be replaced.  New uniforms for the band will cost approximately $50,000.  The Board is exploring all avenues in order to provide the best plan of attack to fulfill this need.  We will update you with more information as it becomes available.